Tea Towel Information
Please see the latest newsletter for details of cake sales.
F of School Newsletter Spring 2023 (2)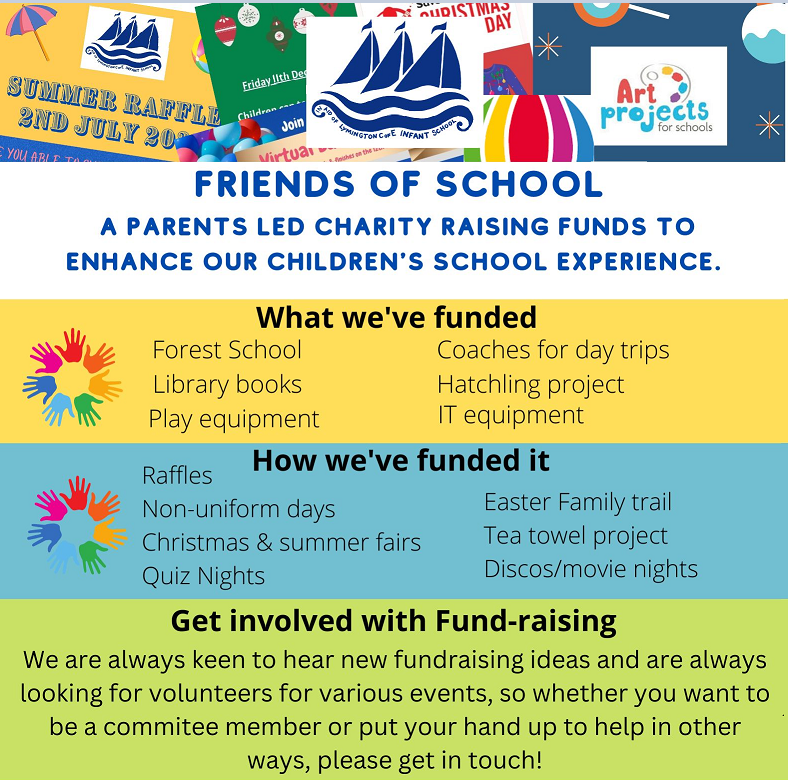 Friends of School
Friends of School (FoS) organise fun events for parents and children throughout the year and at the same time raise valuable funds for the enrichment of the children's life at school, such as transport for school trips, theatre performances or Wild Wood sessions, to name just a few! We are lucky to have a very hardworking team who have helped the school immeasurably over the last few years.
Friends of School is a great way to get involved with the school, have fun and make lots of new friends. The committee and the events only run as long as people volunteer and get involved.
We are always extremely grateful for help so if you can bake a cake, run a stall, take a role on the committee or have some time that you can offer, please get in touch with the committee via the following links below or via the school office.
Join the Friends of School Twitter Feed
Your current FOS Committee
Chairperson -Jane Pritchard (Trustee)
Secretary – Anna Negoescu
Treasurer – Sophie Stoops (Trustee)
Katja Fraser (Trustee)
Jo Elliott (Trustee)
Anouska Parsons
Helen Clegg
Richard Hastings
Emma Ward-Lambert
Hannah Davies
FofS Model Constitution – September 2020
Facebook: Friends of School www.facebook.com/groups/friendsoflymingtoninfants/
Parent Network https://www.facebook.com/groups/364473853726106
Friends of Lymington Infants – for pre loved uniform and event ticket sales.
Please see the Spring Newsletter for events.